Course details
【2980 yen course】 Banquet cuisine 11 pieces 2980 yen (tax excluded)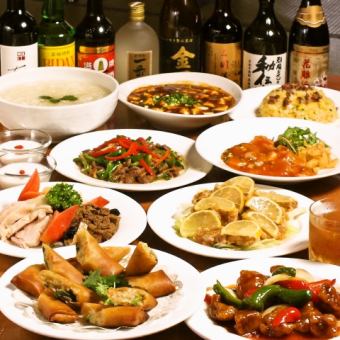 2980 yen
(Tax excluded) * With ¥ 1480 (excluding tax) with 2 hours all-you-can-drink
Available days for reservation

Monday - Sunday - Public holidays - Holidays
It is a course with all 11 items such as shrimp, Chinese spring dish, spring roll, Mabo tofu and shark's fin soup! 2 hours at + 1480 yen (tax excluded), so you can drink as much as you want, so at a banquet surrounding authentic Chinese It is optimal! Because it is possible to rent for up to 100 people, we will respond to company banquets and large banquets of large number of people!
Course menu
◆ Assortment of three appetizers
◆ Five shark finless soup
◆ Ebichiri
◆ Deep-fried chicken
Stir-fried squid with salted salmon
◆ Mapo tofu
◆ Stir-frying beef with oyster sauce
◆ Sweet and sour sauce of white fish
◆ fried rice or fried noodles
Spring roll
◆ almond tofu
With + 1480 yen (tax excluded) with 2 hours all-you-can-drink
※ Please feel free to contact us for details.
2018/10/11 update