Course details
【4980 yen course】 Banquet cuisine 11 pieces 4980 yen (excluding tax)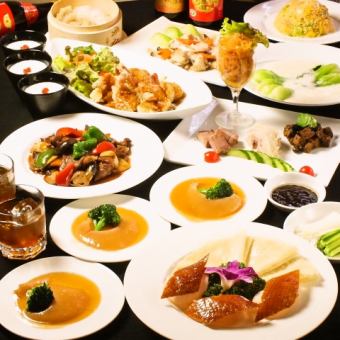 By using a coupon4980 yen
(Tax excluded) * 2 dollar all-you-can-drink at + 1500 yen (excluding tax)
Available days for reservation

Monday - Sunday - Public holidays - Holidays
A gorgeous course that you can taste authentic Chinese cuisine! It is a luxurious course with 11 items including car champagne, Beijing duck set and seafood shark fin soup! As you can get a drink for 2 hours with +1500 yen (tax not included) It is perfect for banquets surrounding the Chinese club! You can also charter up to 100 people, so we can respond to corporate banquets and large banquets of large numbers!
Course menu
◆ Assorted five kinds of appetizers
◆ Seafood shark's fin soup
◆ Chestnut Chestnut
◆ Beijing duck set
◆ Shrimp dumplings and shark's fin dumplings
◆ Stir-fried two kinds of seafood and asparagus
Simmered beef in Sichuan style
Simmered shrimp and tofu
Black vinegar
◆ Seafood Soup Rice
◆ Annin tofu
With + 1500 yen (tax excluded) with 2 hours all-you-can-drink
※ Please feel free to contact us for details.
Coupons that can be used with this course
2018/12/10 update